Webcam not working Windows 7
Updated December 14, 2020
Step 1: Check if your camera is disabled or covered
In the era of privacy and security, some laptop keyboards have hotkeys to enable and disable your webcam. Some built-in and external webcams have a slider or lid that can black the image out. Not only that, but totally disconnect the webcam from the laptop or computer as well. So, our first advice is to check your keyboards hotkeys and make sure none of them is disabling the webcam, and check the webcam itself to make sure the lid / slider is open if existing.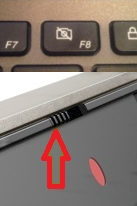 Step 2: Check and fix your webcam driver in Device manager
All of your connected devices should appear in your Device manager list. Look to see if your webcam appears there and fix it:
Right-click on your computer icon and then choose Manage.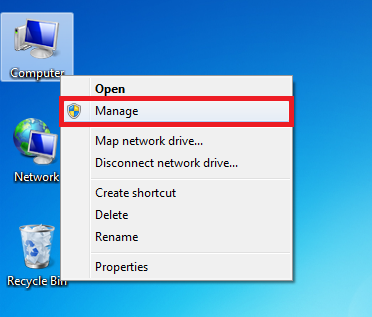 From the left pane, go to this path: Computer Management (Local) > System Tools > Device Manager.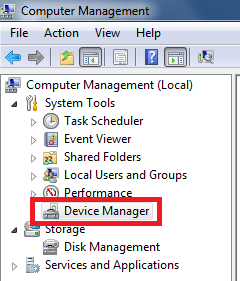 Expand your user > Imaging devices. In this sub-list, you will be able to see all the webcams connected to your computer.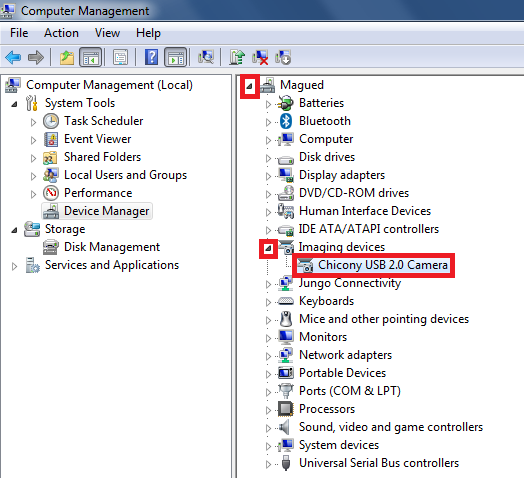 If you can see a downwards arrow on your webcam icon, this means the webcam is disabled. In order to enable it, simply right-click on your webcam and choose Enable.
If your camera is already enabled, right-click on it and then choose Update Driver Software…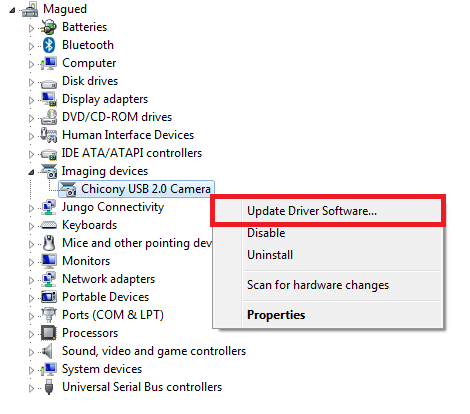 Click Search automatically for updated driver software and wait for the process to be done. If there is a better driver available, your computer will download and install it. Otherwise, it will tell you that the best driver is already installed.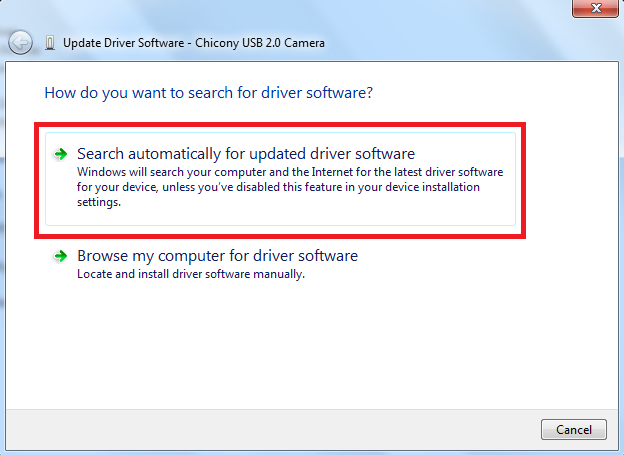 If you've enabled your webcam or updated the driver, try and reboot your computer to see if it works.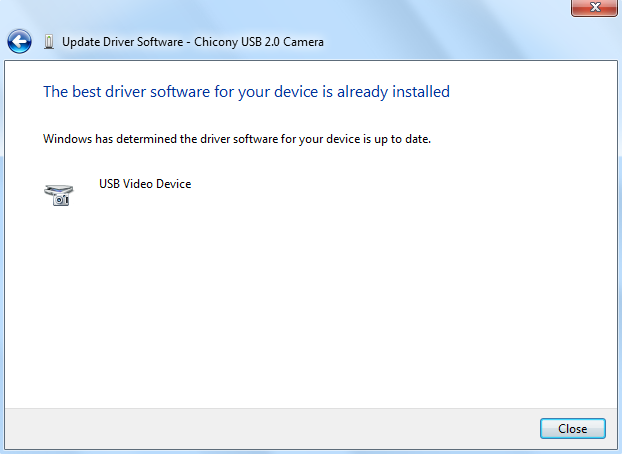 If you're still encountering the same issue, it's time to roll back your driver, this will restore the version before the existing one, only if it has been updated before. Right-click on your webcam and then choose Properties.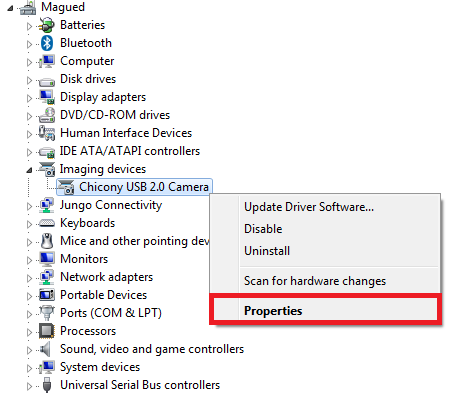 In the Driver tab, click the Roll Back Driver button.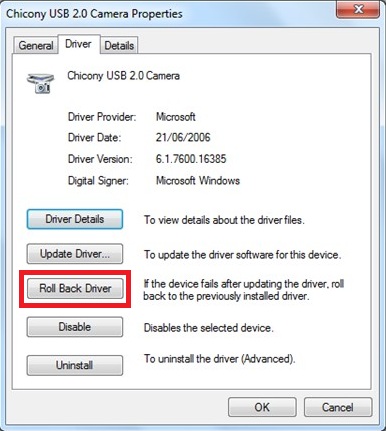 You will be asked for confirmation before rolling back the driver. Click Yes in order to give it the permission.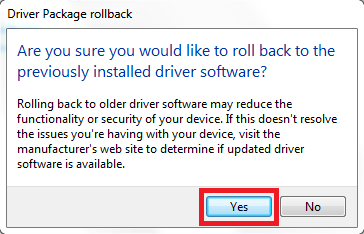 After rolling back your driver, you will be asked to reboot your computer. Make sure to save your open files, and then click Yes.

After rebooting, give it another shot to see if the webcam is functioning.
Step 3: Re-install the driver from your camera or laptop manufacturer's website
Windows 7 is older than Windows 10, and one of the features missing is that drivers aren't pre-installed or automatically installed. That's why you need to download and install them yourself. If it is a built-in laptop webcam, you can always go to the laptop manufacturer's official website and download the webcam driver and then install it manually. Same for the external USB webcam, you are most likely to find a driver for it on the webcam's manufacturer's website.
Step 4: Check your antivirus
Some antivirus and third-party security tools don't only check for malware on your computer, but also take the responsibility of giving hardware access permission to your software. In simpler terms, your antivirus may be blocking your webcam access for some apps, maybe all of your apps. Therefore, we recommend that you check its configuration or a faster way to identify the problem is that you disable it temporarily, if the webcam works fine after doing so, then it's clear the antivirus is behind this and you should check the privacy section in it.
Step 5: Check the specific software that can't access your webcam
Sometimes a specific app or browser will have difficulty accessing the webcam for some reason. In this case, you should go to the settings of your app, for example, Skype or Zoom, and set the default webcam from the settings panel inside the app itself and not just depend on the computer local settings.
Step 6: Troubleshoot Hardware and Devices
Every Windows version has a troubleshooter, as much they don't usually fix the biggest problems, it can do a decent job solving the basic issues you have with your connected hardware.
Go to Control Panel\All Control Panel Items\Troubleshooting\Hardware and Sound and then choose Hardware and Devices.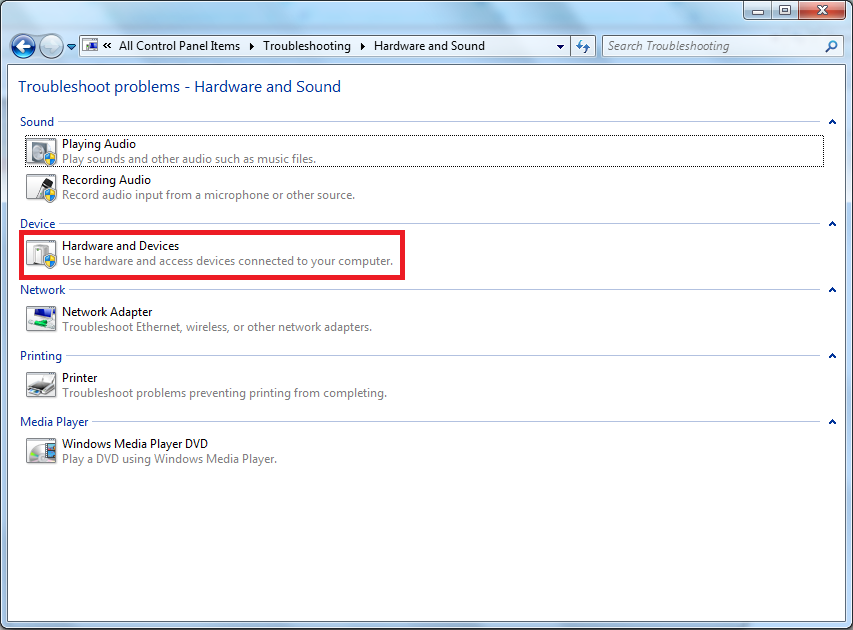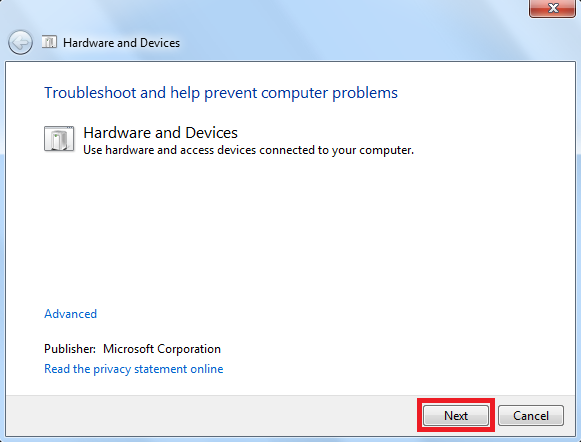 Wait until the computer detects the problem and scan for hardware changes.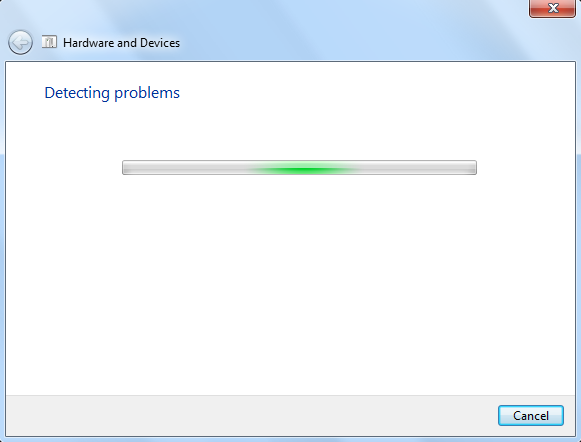 If your automatic updates are turned off, you will have the option to turn them back by clicking View and Change Settings in order to let your computer install drivers automatically.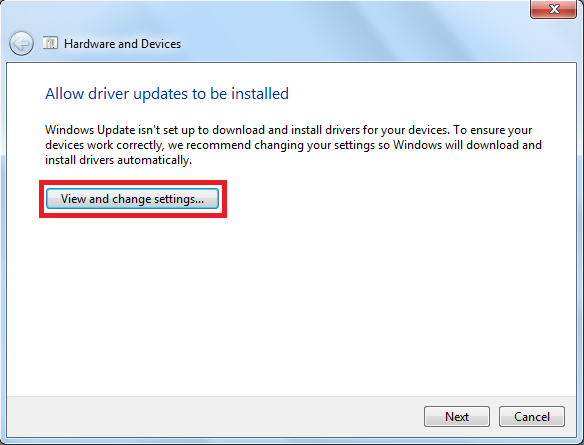 Select Yes, do this automatically (recommended) and then Save Changes.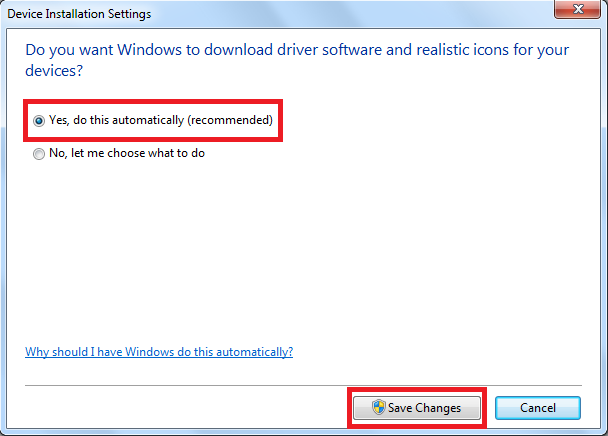 Now you're back to the last window, click Next.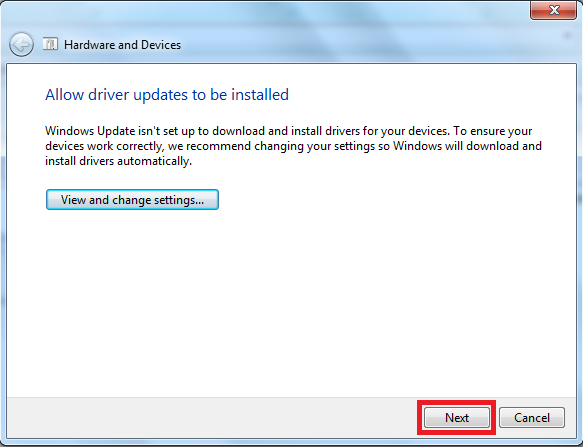 The troubleshoot will scan for problems and fix them automatically. Once done, you will see a list of the problems that were found and fixed. Close the troubleshooter because it won't really be useful after this step. See if your webcam is functioning.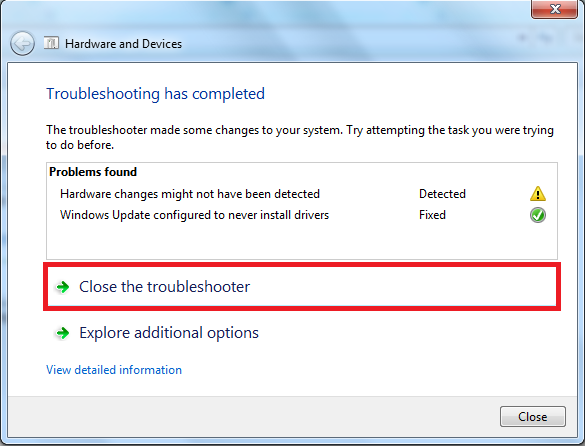 Step 7: Change USB ports or try another computer
This step is for external webcam owners. If you're having some troubles with your USB webcams, you have multiple workarounds in order to identify the problem and also fix it:

If your computer has multiple USB ports, try plugging the webcam to each of them to identify a faulty port.
Make sure you try both USB 2.0 and USB 3.0 ports if available, because despite having the same function, the power characteristics is different between the two models.
Try using another computer with the same operating system, if the issue gets repeated, then even the camera is faulty or not compatible with this version of your operating system.