Webcam not working Windows 10
Updated October 13, 2020
Step 1: Check for a lid or slider covering the camera
Some built-in webcams and external ones as well come with lids or sliders. Closing them sometimes does not only black the view out, it can completely disconnect the webcam from the computer. It is a great way to assure privacy and security against hacks, but many users totally forget about it when they have webcam issues.

Step 2: Check your apps permissions
A couple of years ago, Microsoft introduced an update where an option was added to allow your apps to access to your camera and microphone or deny them from doing so. After this update, the default state for this option was "Off". So, let's check it and enable the required permissions:
Go to Start > Settings > Privacy > Camera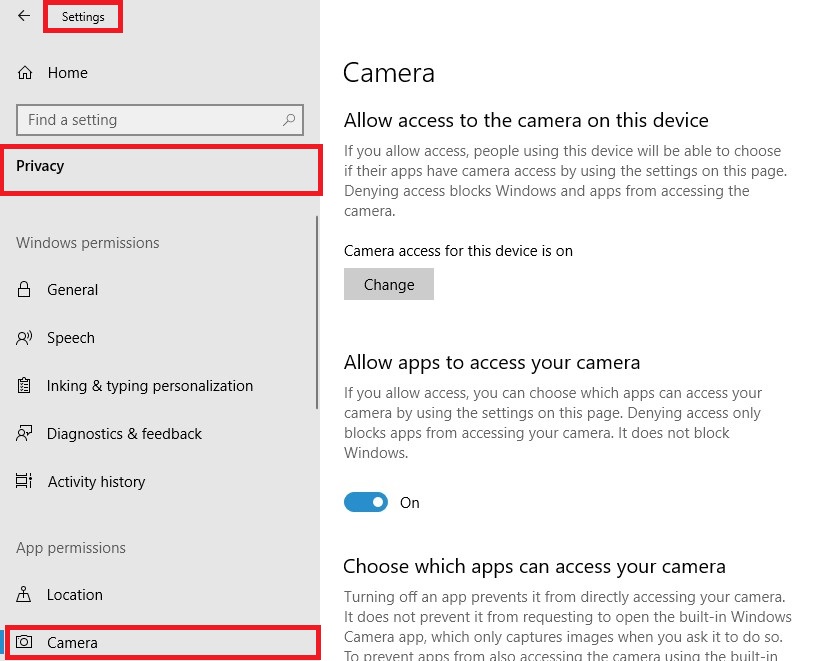 Click the "Change" button in the first section and make sure it's set to "On", this is a basic step to activate the camera.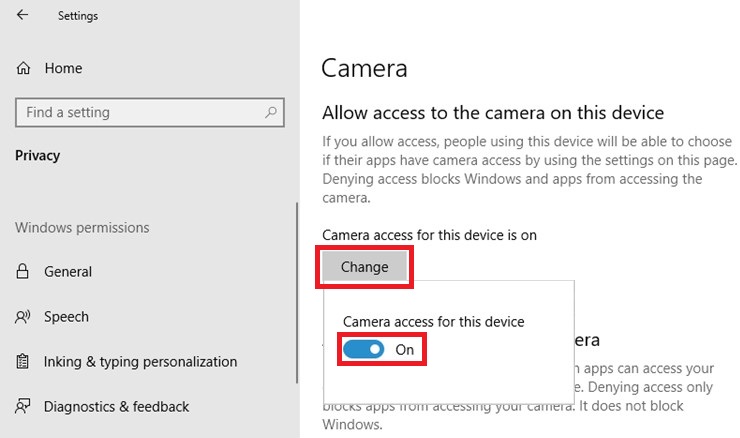 Now in the "Allow apps to access your camera" make sure the toggle button is set to "On" and then you can customize the access for each app in the list.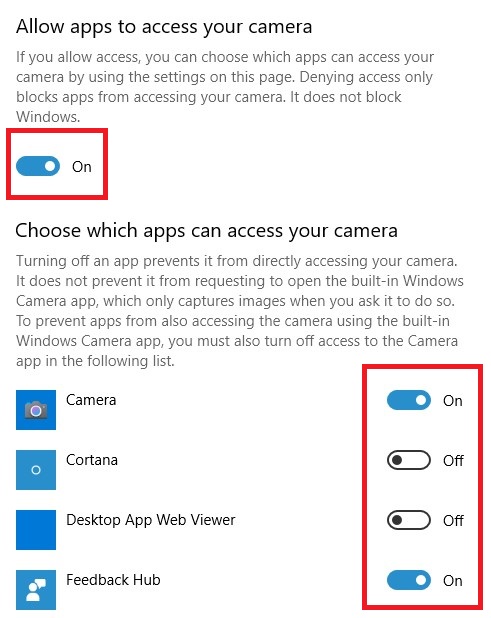 Step 3: Roll back your webcam driver
If the permissions were already set the right way, then it is probably a driver issue.
First, we will try to roll back the driver, which means going one step back before the last change or update that happened to the webcam, which may have caused the problem. Please note that this option may not be available for you, as you might not have a history of updates for your webcam. If so, do not worry about it and just skip to Step 4.
Here is how to perform a driver roll back:
In the start menu, type "device manager" and select it from the search results.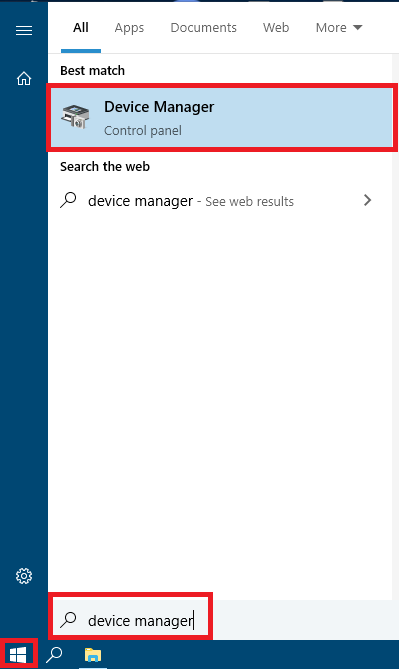 Expand "Imaging devices", "Sound, video and game controllers" or "cameras", and search for your webcam in these sections.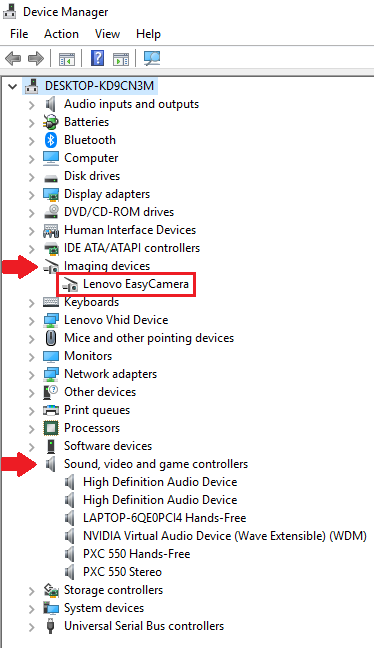 Once you find your webcam, right-click on it and then click "Properties"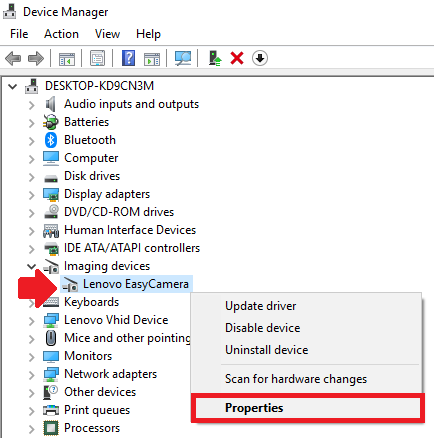 In the "Driver" tab, click the "Roll Back Driver" button.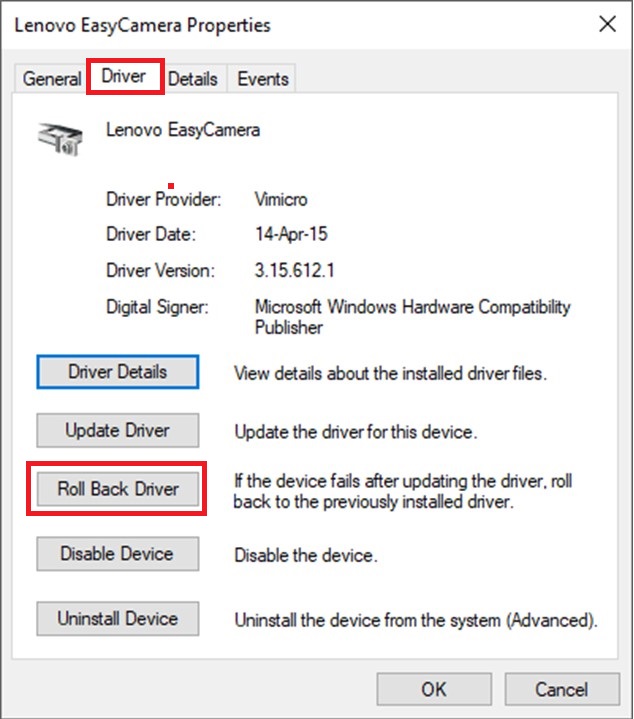 Choose the reason that fits for you, which will probably the second one: "Previous version of the driver performed better" Then click "Yes".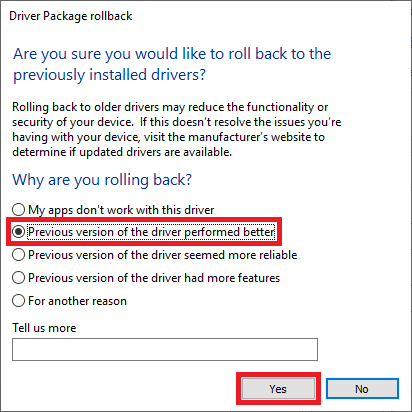 Once the roll back is done, reboot your computer and check if the previous version of the driver you went back to is working.
Step 4: Re-install the webcam driver
If the roll back option is not available or did not work, our next option is to completely uninstall the driver, remove the device, and then reboot the computer. The good thing is that Windows 10 scans for the hardware every time the computer reboots and re-installs the basic missing drivers automatically, which in our case, is the webcam's.
In the start menu, type "device manager" and select it from the search results.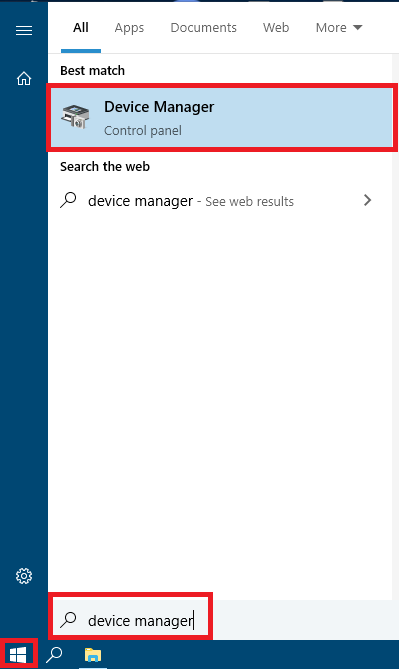 Expand "Imaging devices", "Sound, video and game controllers" or "cameras", search for your webcam in these sections.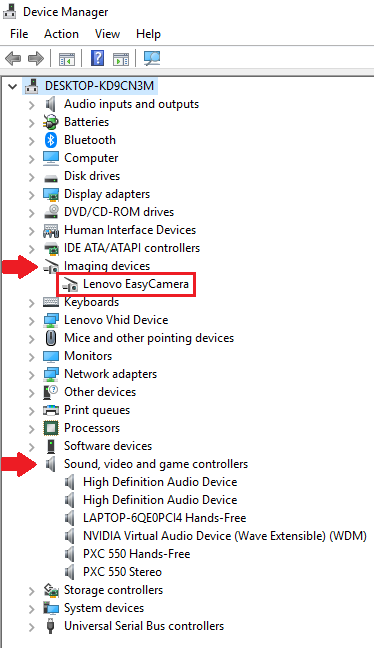 Once you find your webcam, right-click on it and then click "Uninstall device"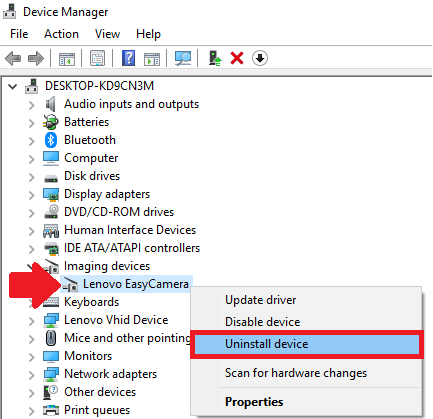 Check the "Delete the driver software for this device" checkbox and then click "Uninstall"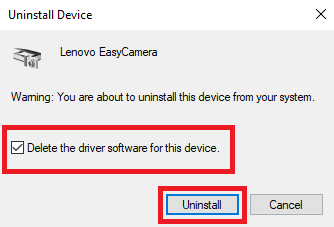 Once your driver is uninstalled, reboot your computer, and see if the webcams returns to life.
Feel free to perform Step 2 one more time after re-installing your webcam driver and remember that the default settings can prevent your computer from accessing the webcam.
Step 5: Download and install the official driver
In the earlier days, laptops, webcams, and other hardware used to come with CDs loaded with the drivers needed for them to function properly. Nowadays, it is totally different. Most devices are now "Plug and Play", and you do not really need to install any drivers at first for them to work. Yet, some hardware like webcams need to be well-installed for better reliability and stability. Therefore, it is recommended to install their drivers manually.
If it is a built-in laptop webcam, you can always go to the laptop's manufacturer's official website and download the webcam driver and then install it manually. Same for the external USB webcam, you are most likely to find a driver for it on the webcam's manufacturer's website.
Step 6: Check your antivirus software
Many anti-viruses software are very strict with accessing the computer's webcam and microphone, even if you enable the permissions from Windows settings, sometimes you can remain blocked. So it's highly recommended that you check your antivirus settings, disable it temporarily, and see if it then works ok. In this case, you know where the issue is and deal with it depending on the software you're using.
Step 7: How to Update Windows 10
Since Windows 10 is becoming Microsoft's 'Forever OS', updating your Windows 10 version is getting more important. Some major updates will be as dramatic as upgrading from Windows 8.1 to Windows 10. These constant updates bring more security, new features and fix many software and hardware bugs that face the users, just like the webcam issue. Therefore, performing a Windows update is a really good way to minimize the issues you encounter, in our case, the webcam failure. Here is how to update Windows 10:
Open Windows' Settings from the start menu.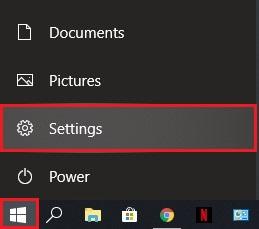 Click the Update & Security icon.

Click the Check for updates button. If there is an update, make sure it is downloaded and installed.

Step 8: Troubleshoot external USB webcams
If you are using an external USB webcam and you are facing issues with it, there is a lot you can do in order to fix the problem or at least determine the problem's source. Here are a few tips to follow:
-Try to use a different USB port, especially if you have USB 2.0 and USB 3.0, it will be good to try both to see which one works better with your device.

-Test the same webcam on another computer and try to use another webcam on your own computer in order to determine whether the webcam is faulty or not.

That was it, thank you for reading to the end of the guide, we hope it helped you and that your camera is now working perfectly. Say cheese!